You spend a lot of your time at school, so it is very important that you tell your school if you suffer from anaphylaxis. You need to have a meeting with your teacher or school nurse so you can make a plan of action in the case of a reaction and to decide which people at the school should know about your condition, how they will help you to manage it and where your Jext® will be kept.
You should also make sure that you understand your condition and tell your friends at school about it. It's very important that if you start to feel poorly from anaphylaxis that your friends can help you by finding a teacher or member of staff.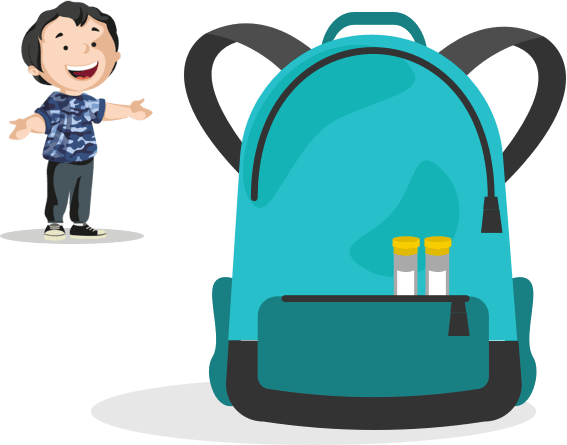 Carry two
Jext® pens
You should always have two Jext® with you if possible, as if you are still feeling poorly after taking your first Jext® then you can use another within 5-15 minutes.
Helping you to understand your condition
It's important that you are fully aware of your allergy, so you should spend time with your grown up discussing your allergy and ways in which you need to minimise risks when you are away from home. Make sure your Jext® is carried with you at all times or is easily accessible.
Expiry alert service
Jext® should not be used after its expiry date. If your Jext® is kept at school, make sure you have registered it with the ALK expiry alert service so that you will receive alerts warning you when it is due to expire.
Clubs
You might sometimes go to an after school or weekend activity club.
If you do, ask your grown up to make sure to discuss the allergy and what to do in an emergency with the person in charge.